For Growing Kids with Places to Go
Upgraded for 2023, the new caravan™ model now features a 200 lb. total weight capacity, Deluxe Rain Cover, and a re-designed sun canopy set with peek-a-boo windows.
A roomy interior fits up to 4 passengers using Double Seat Kits (sold separately) and can safely accommodate a newborn using a caravan car seat adapter (sold separately).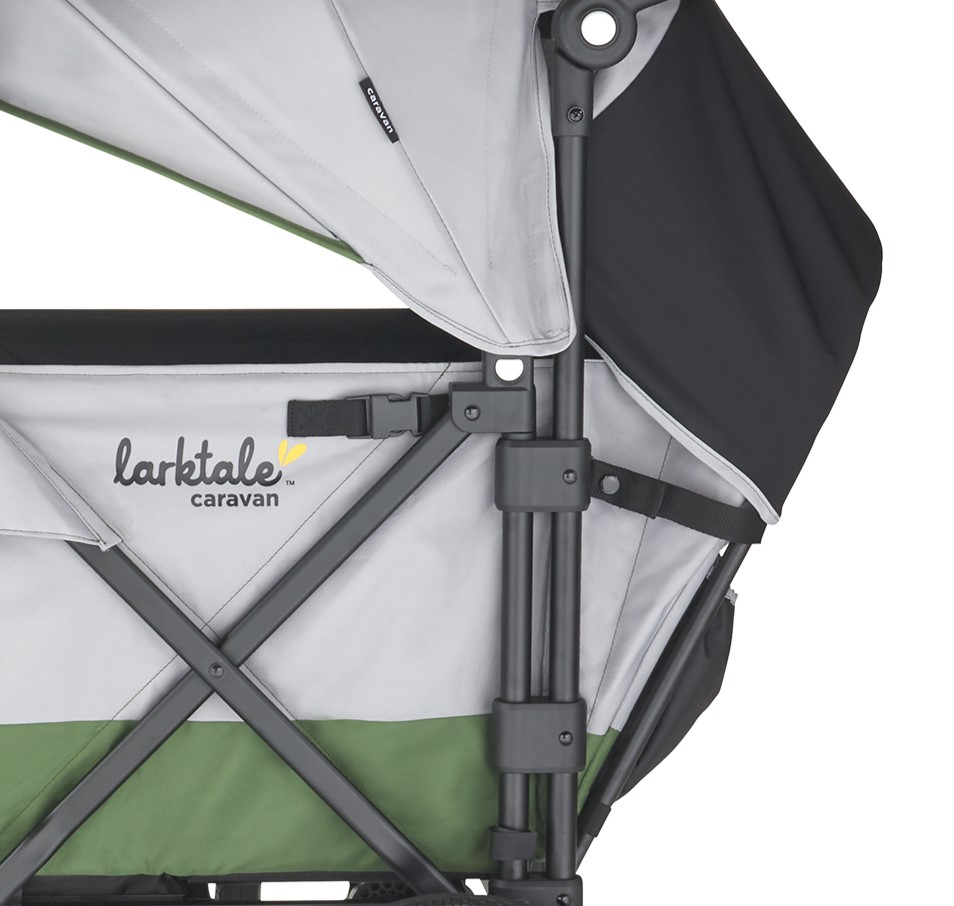 Individual Recline
Multi-position, individually reclining seats provide comfort for each child.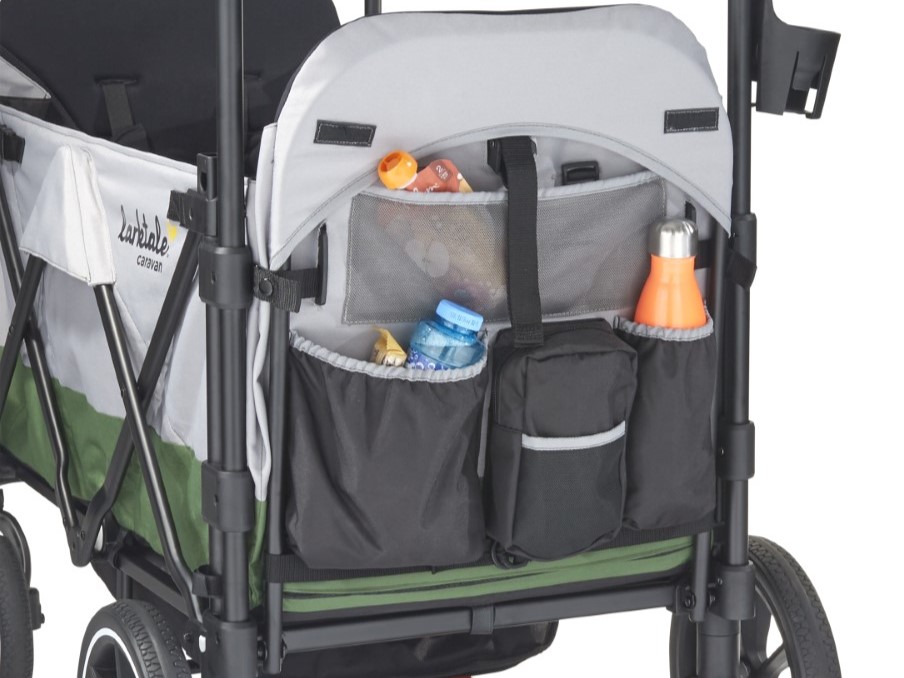 Storage Galore
With so many storage options, you will never run out of room for your things: from the large storage basket to the four mesh interior pockets to the rear seat-back storage organizer.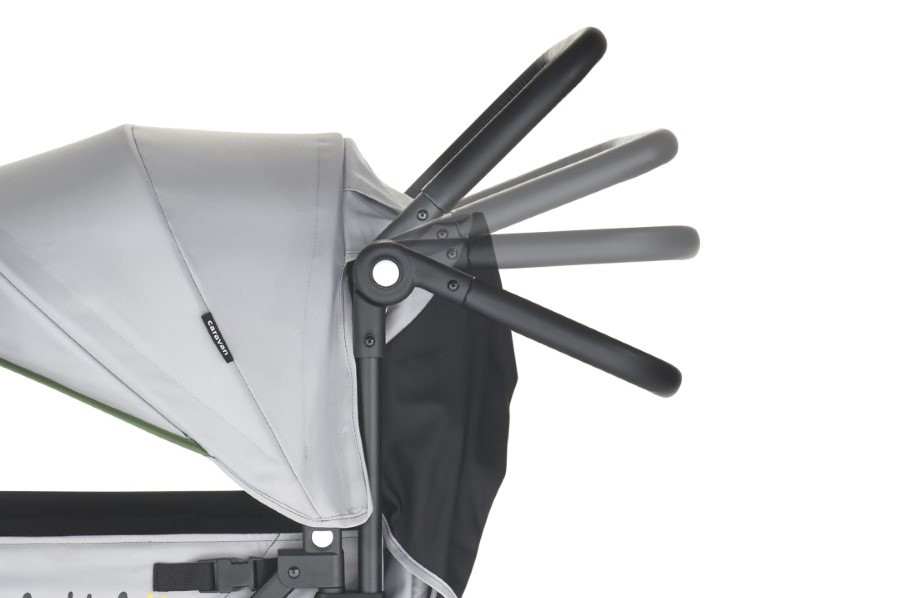 Adjustable Handlebar
Adjustable handlebar with leatherette grip provides a comfortable push for users of varying heights.
All-Wheel Suspension
Large non-flat rubber wheels and an all-wheel suspension system, along with lockable front swivel wheels, provide a smooth and comfortable ride.
Raddl Reviews
November 8, 2023
Haley A

Raddl Verified

Recommended
Incredible Stroller Wagon! Perfect for my kids.
We love this stroller wagon! It is perfect for our 3 kids (ages 9mo, 2.5 yr, and 4.5 yr) We bought the double seat converter separately, otherwise the wagon as is only seats two. But it would still be an incredible wagon for 2 kids! It was easy to set up, and I love the canopy coverage! Perfect for a sunny day, or even to block the wind and keep the heat in a bit on cold days. Rides very smooth and has nice suspension.
A huge pro of this wagon is the storage! Love the mesh pocket on the same side as the handle to push, perfect for my phone! There are two other storage pockets on this side with a zipper storage pouch, and then the other side has plenty of storage with the large storage basket! It's perfect for anything you may need to bring with you. I also love the cup holder. The plastic pieces move to hold your drink very snuggly, which is perfect!
I love that the handle height is adjustable, and it's super easy to unfold and fold back up! The buckle clip used to keep it folded is super easy to use. Love the large wheels. It is heavy to pick up, but that is expected for a wagon that has such a high weight limit. I was comparing it to the weight of other stroller wagons that can hold up to four children, and this one was a lot lighter, comparatively (20 pounds less than another wagon I had looked at purchasing)! The lighter weight is a huge plus in my opinion! It is manageable for me to get in and out of our van on my own.
I'm very happy with this wagon, and I cannot wait to use it for years to come with my kids! It truly has everything you would need in a wagon for small kiddos!
November 5, 2023
Aime D

Raddl Verified

Recommended
Baby and Toddler Approve
Things that we love:
Unboxing and assembling the Larktale Caravan was quick and easy.
We love the look of the wagon. We love the adjustable handlebar.
We love all the extra storage space and the individual sunshades.
It is a comfortable ride for our eight month old and four year old son.
My four year old son is autistic and tends to wanderer off when he sees something interesting but hasn't done so since we have taken the wagon out with us on outings. He is the first one wanting to climb into the wagon.
We love the foot well and the having the option of zipping it flat for the baby to play or nap.
We love the included bug and rain covers.
We love how easy it is to push even on grass.
We love how quickly you can fold and unfold the wagon. The clip keeps the wagon close when we load it into our vehicle.
Things that we didn't love:
I am 5 feet tall and even with the canopy up I can't see into the wagon. Since I am petite I have trouble going over bumps on the sidewalk because I can't lift the wagon.
Although folding is relatively quick, I cannot fit the wagon comfortably into my Honda CR-V. I have to detach the wheels to make everything fit. Detaching doesn't take long which is convenient.
Although it's great how roomy it is, we didn't love how long the wagon was especially with the attached basket since it makes maneuver in crowded places harder.
We do not love the cup holder. It is not sturdy and would've prefer to have a snack tray for the kiddos or a parent console.
Overall the pros outweighed the cons and we definitely would still purchase the wagon again.
November 5, 2023
Cathy T

Raddl Verified

Recommended
Larktale caravan
I love how easy the stroller wagon folds up and assembled. My 4 year old fits in the stroller as well as my 8 month old. I had to steer in gravel and dirt and I did not have trouble pushing at all. Maneuvering is really smooth, even in small spaces like an elevator. Plenty of compartments around the stroller including inside the stroller for the kids and outside for the parents. With my daughter being on the taller side, I'm glad I chose the caravan. It is on the heavier side but I am 5'2 and I am able to put the stroller wagon into my Benz gle 350 no problem. Definitely worth every penny.
October 26, 2023
Lindsay T

Raddl Verified

Recommended
Wonderful Wagon!!
This wagon is a GAME CHANGER!
We just had our 3rd baby and I needed to be able to fit everyone comfortably and still provide seating for all. We have a newly turned 4-year-old, a 2.5-year-old, and a 4-month-old. We also have a City Select LUX, but that does not allow actually seats for all 3 of our kiddos (one would have to use the rider board and have no back support). This wagon solves that issue for me!
This wagon is SO easy to fold and unfold. It also weighs less than our double Bob stroller. It fits perfectly in our Honda Odyssey with the 3rd row up and has room to spare!
I am so happy we purchased this wagon and have used it almost every day since we got it!
August 1, 2023
Chelsea K

Raddl Verified

Recommended
Larktale Caravan Review
What we liked:
Kids agreed it had comfortable seats
It's really sharp looking!
Easy to fold & unfold
Easy to assemble out of box
All of the compartments and storage area that comes with wagon!
I am 6'1 and my husband is 6'4. We love that this wagon is made for tall people to push!
What we don't like:
Our 4 kids are 185lbs and with all four in there- it was almost impossible to push without breaking a sweat and a struggle, even on a level sidewalk.
We have a 5 year old, 4 year old, 2 year old and a 10 month old, and for two of the older kids to sit side by side was a challenge, they were pretty squished.
Would love a better snack tray accessory option
Larktale needs to ditch the canopies and go to the canopy. Although I don't hate canopies, I just really love the openness of the canopy.
October 17, 2023
Lindsay B

Raddl Verified

Recommended
Excellent stroller wagon
I love this stroller wagon! It's beautiful, and it's so easy to push, which is a huge factor for me. You can tell it's made of quality materials, and my children find it very comfortable. My five year old and two year-old both fit comfortably and have plenty of leg space.
I do wish it came with parent and child consoles – I ended up purchasing two of the parent consoles from Larktale, pictured here. Because the stroller sides are soft, most of the snack tray options on the market that go across the wagon do not work for the caravan. So I just put the Larktale one on the inside and looped the carrying strap through the stroller frame. This works well, and my children like having their own cup holders as well as the insulated compartment for snacks. Just note that the consoles pictured here were purchased separately and don't come with the wagon.
It does come with a great storage bag that holds a lot, but I ended up taking it off and folding the bar up so that the stroller would be more compact. It's a little too long with the storage bag at the end of the wagon, I wish it was underneath the push handle instead. But other than these minor qualms, it's an excellent wagon for the price point. Would absolutely recommend!
October 13, 2023
Levi D

Raddl Verified

Recommended
Love our new wagon!
We love our new Larktale Caravan. Although it can feel quite long pushing it around, it's a great size. It's not that wide like some 4 seaters are, but still enough room to fit 4 if you'd like, but in our case more likely just plenty of room for our son to move around and take a friend or two along with him sometimes. We really wanted a wagon with a footwell for better comfort, as well as one that had the footwell that could be made flat for naps and playing. We like the canopies and the coverage and ease of use they provide as opposed to the single canopy supported by a post at each corner many other wagons use, and the peak-a-boo flaps are a nice addition to this new 2023 model. The wheels are very smooth thus far, hopefully they stay that way. Folding/unfolding is pretty simple, as was unboxing/installation, it really just needed the wheels and canopies put on out of the box. It is fairly heavy though, my wife struggles to pick it up for loading/unloading from the van. Overall a great wagon design and we look forward to getting further use out of it!
A few areas of potential improvement from an engineer: the footwell cover flap can be difficult to get the zipper started. Our son steps on the frame at the middle of the wagon side at the bottom where it forms a 'V' to get in, but struggles to get out as he struggles to find that or another spot to step on climbing out. Adding some sort of step would be nice for toddlers to get themselves in and out more easily since they're going to do it anyway. Pressing the folding button doesn't always stay unlocked, so you need to press the button while pulling up on the loop in the footwell, which can be a difficult reach especially for shorter people like my wife. It needs a solid snack tray attachment. Any snack tray would be better than none, but preferably a hard one as opposed to fabric ones some companies use. With the canopies installed and the seatbacks upright, the loose fabric of the wagon doesn't look very nice. I'm not sure what you'd do differently as it needs to be able to move for when the seatbacks are reclined, but it looks a bit goofy with the flaps when upright.
October 18, 2023
Sarah B

Raddl Verified

Recommended
If you're on the fence, buy it!
When I began looking for a wagon for my family (kids 6 and 2) I couldn't decide between all the brands out there. It can be really overwhelming!! I landed on the 2023 Larktale Caravan because it folds with the canopies attached. I didn't want to mess with taking a whole wagon apart just to get it in the car everytime. While I love that it does this, it makes it so much bigger (taller). The folded dimensions online do not include with the canopies attached, so now I have to remove the canopies anyway to get it to fit in my car the way I was planning for me to have extra room. Not exactly happy about that. Larktale should include folded dimensions with canopies attached on their website for people like myself where space is limited. The other thing I wish the wagon had is a "doggy door" for entry. The wagon is fantastic and large enough for the older kids and my 6 year old fits super comfy but she can't get in by herself easily. Definitely not a deal breaker because the other options the wagon has makes up for it! I love that there is a footwell so the kids arent sitting in the nasty stuff from their shoes but even better is that you can make the whole wagon flat too if thats your jam or baby needs to nap. There is a convenient zipper in the footwell to easily clean out the mess too! It comes with 2 seats with belts but 4 kids can easily fit in this thing and there are 4 mesh pockets on the inside for their cups, snacks, toys because my kids bring the world with them when we go somewhere. I think there is an optional 4 seat with belts you can buy separately too. I read reviews that said the storage was lacking but I don't think so. There are 3 pouches on the drivers end and a big bucket on the other end with a mesh zipper pouch underneath for wet nasty things. Folding is super easy and I don't have as much trouble getting it in my car as my double stroller but I'm petite and 5'4" so any of these things aren't easy for me to do. Its actually pretty light considering its size. The ride is smooth and the kids enjoy it. It hasnt knocked any teeth out on gravel yet. My 2 year old can stand up in the footwell and hold onto the side. The canopies have alot of coverage and I like that you can adjust to the amount of coverage you want or don't want. When they are in the up/closed position not in use, it can be a bit difficult to see over if you're short like me. The included rain and bug covers are nice too! Also forgot to mention above that when folded the wagon stands upright on its own without falling over. You won't realize how nice this is until you have a wagon that doesn't stand on its own. Very impressed with the quality, go get you one of these things! It makes your life so much easier. I gave 4 stars overall only because of the canopies attached makes it larger than any dimensions provided on website's anywhere. The car pictured is my Lexus RX350, not 3rd row and seats are up because I have 2 carseats in the back.
October 5, 2023
Jamie H

Raddl Verified

Recommended
Excellent product!!
Unpacking and assembling the Larktale Caravan 23 was super easy! I absolutely love the look and it's even better in person. My husband was pleasantly surprised with look and functionality. He calls it the dad-a-llac of wagons. Pushing it, it feels super light and steers very smoothly. It glides like a Target shopping cart. It's amazing the small spaces it's able to maneuver through. With our one daughter, she has tones of room on one side of the wagon while we are able to stack the other side with shopping bags and personal items (purse, diaper bag, blankets, ect). In just the few weeks we've had the wagon we've used it at least a half dozen times and every time we always get compliments on style and maneuverability. Our daughter loves riding in it with a little more freedom she has in it then in her stroller. It's a total game changer for how easy it makes family outings. Highly recommend this great product!!!
October 1, 2023
Meg F

Raddl Verified

Recommended
We love it!
I sold my Wonderfold wagon to get this Larktale Caravan and am so happy I did. The Larktale is SO much lighter and easier to get in my car. It's very easy to steer and I love that the canopies cover the back of my kids' head. This has such an easy fold and the adjustable handlebar is awesome. I do wish the main horizontal bars were configured a bit differently because my six year old's head hits the bar. I also wish the basket was on the parent push side instead of the front of the wagon, but it's definitely not a deal breaker. Overall it's such a great purchase.
September 26, 2023
Genevieve J

Raddl Verified

Recommended
Great for tall kiddos
So on the whole, I love this wagon. I have a super tall 3 (soon to be 4) year old and a six month old and I needed something that would work years to come. I think it 100% fits the bill for that. The seats are roomy and my super tall child has plenty of space and room to grow. I walk a lot and I needed something that I could push easily. This is easy enough to steer, although it definitely is a behemoth and of course does not move as smoothly as my stroller. I'm fairly strong and it takes a reasonable amount of effort to push my 50 pound 3 year old and his six month old sister, so I am preparing myself for a workout when they get bigger, but I definitely can walk for long stretches easily enough. My son also says it is a bit bumpy—but not enough to bother him.
I would say this would be absolutely perfect if it steered just a little bit better and if it came in more colors—I would love a color selection like the Pronto (which I didn't buy because I thought it wasn't big enough).
October 1, 2023
Kyla M

Raddl Verified

Recommended
Love it!
I purchased the Larktale Caravan V2 with canopies in black to use with my kiddos. My kids are 8 and 9 months. I chose the one rated for 200lbs so both my kiddos can enjoy it! My daughter who is 8 is small for her age so she will be able to enjoy riding in it! I mainly got it for long hauls with the kiddos like the zoo and trick or treat. I'm sure I'll be using it whenever I get a chance.
It took about a week to arrive. When it arrived my husband immediately put it together. Very easy to put together and quick. It folds up nicely and you do have to remove the canopies to fold it. I like how it rolls easy even when folded up.
I am in love with it. My son and daughter fit in it perfectly. My niece even fits in it with both my kids. I can't wait to take it for a long haul and see what we think. We are already looking to add an accessory for cup holders to it!
I gave it 4 stars because I don't like that the canopies have to be removed to fold it but other than that it's everything I was looking for in a wagon. If I could do a rating between 4-5 then I would have gave it a 4.5 stars!
September 25, 2023
Iris J

Raddl Verified

Recommended
Toddler Approved!
Absolutely worth the cost! The Caravan is definitely a premium option if you're looking at purchasing a wagon. You may wonder, as I did, if it is worth the upgrade over the cheaper options on the market. Well, it absolutely is!
If you have more than one child, you will be thankful for the extra space this wagon provides. Beyond that, more children also means more supplies you need to lug around, and the Caravan has got you covered. It's frankly amazing how much stuff you're able to haul. And it's even got a cupholder! Husbands beware though, if you fill it up that much you're gonna be the one pushing.
I was also quite impressed by how sturdy the Caravan is. We have a cheaper wagon that feels quite fragile, but this feels really safe and strong, which is definitely necessary when you're going anywhere that's not paved. Our toddler was jumping up and down in it, leaning over the sides, and doing basically anything else she could think of to get herself hurt (we only let her do this at home for testing purpose), but this thing held strong and wouldn't let her. The Caravan is a brick wall between its occupants and the dangers of the outside world.
After a long day of doing whatever you required this wagon for, you'll also be thankful how easy it is to take apart and store. It folds up quickly and easily, and anything that comes off detaches at the simple push of a button. Once folded, it's surprisingly small compared to how large it is in action and stores easily into a trunk of closet.
Overall, I've already retired my cheaper wagon. There's really no comparison. Get the Caravan and you will not be disappointed.
September 15, 2023
Christina H

Raddl Verified

Recommended
How did I ever live without this
I'm not sure how I've lived without this wagon. I have 3 kids they all fit in it! ages 7,5 and 2.
I wanted something easy to fold up, light weight and not a pain to push around I'm so so glad I purchased this one out of all the wagons out there. I wished it came with more cup holders for me but that was an easy fix as you'll see in the photo.
September 19, 2023
Christina M

Raddl Verified

Recommended
Loving it so far!
I've never had a double stroller or a wagon, so I have little to compare this to. However, I did a ton of research on different wagons. I was debating getting a Wonderfold but it was huge and heavy.. I wanted something that didn't take up all my trunk space and that I could still carry and maneuver easily. I ended up excitedly choosing the 2023 Larktale Caravan I have a 1 year old and a baby coming in a couple months. We also hang out with some family friends with kids (6 yr old, 3 year old, 7 month old) a lot and wanted something they could have the option of sharing and using.
I've had it for a week so far, including walks to the park and even a trip to an amusement park! Couple thoughts on it. Putting the wagon together was super easy and quick. I'm happy it fits in the trunk of my 2012 Hyundai Elantra with some room to spare. Didn't have to take anything off except the canopies but I think you always have to take those off..? It did NOT fit in the back of my friend's 2004 Chevy Tahoe unless we put down half of the 3rd row. The 3 year old and 1 year old could fit next to each other on one side but it was tight.. I wouldn't really recommend much older or bigger than that. But the 1 year old sometimes hung out in the footwell (it seemed pretty strong!) I loved that I could close up the footwell and let the 7 month old crawl around in there.
I will say this though.. my 12 month old practically dove off head-first off the side (caught him in time) with the footwell closed, so just keep in mind it's not good for the whole baby standing while walking if they are a certain height already. I was really hoping it would be! But I guess that's the difference between the huge and expensive Wonderfold lol.
The wagon itself pushed really smooth and seemed decent to maneuver and turn (again, no experience to compare to). Uphill was rough though, especially with the kids in it. (I don't have the pull handle yet but I've heard that's easier to do than pushing!). We did try pulling it backwards and that helped some. Also, im 5' and could not see over the closed standard canopy. I had to move to the side to see what the kids are doing. That was a bummer but I'm thinking I'll eventually have to get the overhead canopy.
Overall, I really love it so far. It's just so much better than simply using a stroller!! I love the color and the quality of the material. I just wish it had a bit more storage capacity and came with the summer canopies, but I've seen people adding bags etc and plan to do that. I also wish I didn't have to buy so many accessories when it's already so expensive 😅 but still overall love it!!
September 12, 2023
Ashley T

Raddl Verified

Recommended
Best Wagon for a Growing Family
When we started looking for a stroller wagon, we wanted something that had enough room for our growing family. Other options would require either a wagon that was too big for our current only child or would require an upgrade if we needed more than two seats. With the Larktale Caravan, neither of those concerns are valid. I love the flexibility that the Caravan offers! The fact the dual sun shades, basket, rain cover, and parent cup holder come standard was just icing on the cake! The reclining feature is awesome and easy to operate. The interior child pockets made it easy to leave my toddler's drink within reach. The pockets for parents were super handy and kept our necessities readily available. I can't wait to purchase the snack tray and car seat adapter when our next baby arrives. We may go ahead and purchase the dual-seat adapter for fun outings with friends! I love the versatility this offers!
The wagon was well packaged with additional cardboard and styrofoam. If you open it right side up, the directions are easy to spot and follow for assembly. Assembly was quick, easy, and pretty straightforward. The wheels are easily removed to fit in tighter storage spaces. Opening and closing the wagon is effortless. When pushing or pulling the wagon, it glides with ease. Corners didn't seem to be a problem and were easy to maneuver. Our only difficulty is traveling with the sunshades attached. We had to remove them to put the wagon in the back of my 2019 Pathfinder comfortably. Maybe with more use, we can find a more efficient way to store while traveling.
My only complaint is that the basket itself was not large enough to hold our diaper bag. We also attempted to put the diaper bag on the second seat, but it kept falling on our child with the footwell open. We decided to close the footwell and make it a flat space, but it wasn't ideal as my child didn't have much legroom. We ended up carrying the bag for most of our zoo adventure. Although we loved having the parent cup holder, it wasn't super stable. It tends to move a lot.
Overall, the Larktale Caravan is a luxury, versatile option. The seats were plush and comfortable for my toddler, and he loved the freedom the wagon offered. My husband and I were impressed by the birth of the sunshades and how well it kept our child guarded from the sun. We will definitely be recommending this wagon to everyone we know.
September 8, 2023
Aneta L

Raddl Verified

Recommended
My Favorite
I received this product in exchange for my honest and true review through the Raddl Rewards Program.
If you have more than 2 kids you need this wagon. I love how comfortable it is for my 2 and 4 year old! Assembly was super easy and it's got all the accessories that are needed. It is on the larger side of wagons but fits in my minivan trunk without a problem. I think my all time favorite feature is the fact that you can move the one piece from the seat and make it lay flat. Naps on the go have never been easier!
September 5, 2023
Channa E

Raddl Verified

Recommended
Love our Larktale Caravan!
We LOVE our Larktale Caravan! My daughter is just about to turn 2 and it's perfect for her and all our needs! She loves to ride in her "wagiinnn" and gets so excited to go on walks. We use it daily for walks to put her to sleep for her nap time, we have used it at the zoo, which it was amazing for, and anything in between. My dad (her Grandpa), my brother (our babysitter), and my husband have all used the Larktale Caravan for her and all speak highly of it. It's super cute, great quality, and pushes so nicely on concrete (sidewalks, streets, etc.), grass, and gravel. It's super comfy for her that she is able to fall asleep in the reclined position or laying down for her naps.
September 1, 2023
Julie S

Raddl Verified

Recommended
Magnificent Wagon
I LOVE this wagon and I am so happy with my choice! I did a lot of research and this is the perfect wagon for our family. We have very tall kids! Our 3 year old is 3'8" and our 1 year is 2'9". This wagon is long so it will be perfect for my kids to continue to grow into! I am also very tall 6'0" and LOVE how tall the handle goes! It also goes so low that my 1 year old can even push the wagon!
I do wish the basket was on the other side just for convenience. Also I wish for somehow an easier way to climb in. My 3 year old can do it.
This wagon absolutely pushes better than my city select double jogging stroller. I had 4 kids in the wagon today and I would say it was still better/easier to push. We were 70lbs on one side and 65lbs on other! I love the large weight capacity on both seats (93 lbs each side).
The canopies are great but are very large and to get them into the car will need to be removed. Removing them is easy.
It is easy to fold and lift into my car. Any heavier would be a problem for me.
I think Larktale made a wonderful product here and I am thankful for it for making my life easier
September 1, 2023
Megan B

Raddl Verified

Recommended
Love this wagon
I love how truly smooth and easy to push this wagon is! My 40 lb toddler sometimes gets tired of walking and this is perfect for her.
I don't make her strap in because she gets in and out often. The footwell is perfect for her to have room for her long legs. She also likes to lay across the whole wagon and still has plenty of room.
the wagon has a lot more pockets for storage than I thought and our cups fit perfect.
The only thing I have to get used to with this wagon is how much longer it is than our regular stroller.
August 27, 2023
Ah Young Y

Raddl Verified

Recommended
Great quality of wagon stroller with functionality and style!
I have to say I love the functionality this wagon stroller has as well as style! I was looking for a wagon stroller as my baby does not like riding stroller and would not nap in one when we and was looking for a wagon and spacious enough for sleeping, smooth and with lots of storage and of course full sun coverage. Steering and pushing is smooth and with big wheels it doesn't get as bumpy on the streets and sun canopy is really big covers sun from all directions and peekaboo window lets me see inside while pushing the wagon. Storage spaces are hands down amazing!! It's definitely bulky but with all the positive options and functions I love it and my baby loves going in it even inside our home and has so much fun going between two seats and looking out on the side and fell asleep on a stroll on first day out with the wagon with the flat bed setting and I have to say I could deal with the bulkiness over him sleeping so comfortably and all stretched out in it! 🙂 One thing I wish they had would be a meal or snack tray that can fit across the wagon if we were to do meal time I don't know how that can work since the sides are flimsy to be able to hold any tray. And the cup holder is very thin and flimsy but like the fact it stays on when folded. It would be lovely to have another cup folder for both parents drinks with open lids but there are other cup holders I bought that fits on any strollers that can work fine. I worried about fitting it in the trunk of our compact sized suv but no problem at all too. Rain cover option is also a plus! Overall I'm pleasantly surprised and happy with the purchase and glad I picked Larktale over other options I was considering (Veer, Keenz) and looking forward to enjoying this with my baby for a long time in many places!
August 28, 2023
Jezamine E

Raddl Verified

Recommended
Great wagon for a great price!
I love love the larktale caravan! Not only does it look sleek and stylish the usability and durability of the caravan is great!
We live rurally, so lots of grass, gravel and bumps and hills. It navigated all of these terrains easily. The tires are puncture proof tires, and I haven't had any issues on all the gravel we go through. The push is easy and smooth. The ability to lock the wheels in one direction is handy for more bumpy terrains. We took it to the beach and it definitely is harder through sand. But having a second person or pulling with either the front handle bar or steering handle makes the caravan go through the sand easily enough.
My 2 year old son loves sitting in it. We like the sun topper canopy more than the original canopies, as it allows him more of a view. I can also see over the canopy at 5"2, for all those short parents worried about it.
The fold is super easy. The 2023 version has a new button to press before folding, and then an easy pull strap in the footwell. Closes easily without much effort. There's no dismantling or removing pieces to get it closed. The strap keeps it closed. Even the sun topper canopy folds down with it (fold the canopy bars down when the wagon is open only!) Overall when folded, it's pretty compact and stands on its on. You can move it on its big wheels when it's folded up. It fits into my Honda crv trunk easily.
I found it easy to lift in and out of my Honda Crv and and I'm short at 5"2. It even fit in the trunk of my Honda accord. I've attached a picture of it in the accord.
Overall, I am very happy with my purchase. The caravan being lighter and durable enough for our area was the clincher for us to buy it.
August 22, 2023
Allison M

Raddl Verified

Recommended
Larktale Caravan
Overall, I would give this Stroller wagon five stars!
The material is premium, it was easy to put together and easy to maneuver.
The stroller handle does wiggle slightly, but not completely out of the locked position.
Seriously, for a long wagon, this thing turns easily.
It is not beach friendly. Lol We had the opportunity to take it on our vacation. Now, loaded we could PULL it to a stopping point, but I mean pull it like a body builder. Maybe with the pull lever you can purchase separately it'd be easier, but I think more than likely it just needs slightly bigger wheels.
I love the recline function and look forward to purchasing some accessories to make this even better.
This is large but fits through all doors we've tried so far. The brake is so easy I can lock AND unlock without shoes or in sandals. LOVE THAT.
If you aren't looking for an everyday beach wagon, than this is an absolute fantastic choice!
I did a lot of research and am so happy with our purchase. Highly recommend the Byron Black too! Looks extra luxurious.
August 24, 2023
Sarah R

Raddl Verified

Recommended
Greatest thing ever!
OK. So this wagon is a GAME CHANGER! I cannot say enough good things. It is lightweight to push easily, the wheels work well in rocks, in sand, and in gravel. The canopies stay in place and don't wobble. There is plenty of room of 2 kids, but honestly plenty for 4! I love all the pockets and cup holders. The edges are sturdy enough that kids can climb out without them collapsing.
My only complains are 1) my panel was already peeling off right out of the box.
2) the break isn't very intuitive to use. 3) the belt holes are too tight to make laying down the floor part very easy.
August 24, 2023
Percy J

Raddl Verified

Recommended
Absolutely love it!
Love taking family outings to playgrounds, zoos, festivals, etc, and needed a stroller/wagon for that. Have been researching for a wagon to accommodate our two tall kids (ages 4 & 7) for quite some time. Most wagons ended up being way too small and double strollers just take up too much cargo space. The Larktale Caravan Stroller/Wagon is BIG and it's just what we were looking for. We purchased the Byron black color with the brown leatherette handlebar. Looks very stylish and it has enough space for both kids to sit comfortably. Our kids love it too!
The wagon is aesthetically pleasing and has a very smooth ride. We love all the storage options, the height-adjustable leatherette handlebar (my husband and I are tall – 5'10 & 6'0), the removable full coverage canopies, and the 200 lb. total weight capacity. Feel like our kids won't outgrow it quickly.
The wagon setup was a breeze. Just scan the QR codes on the box and follow the instructions. The wagon folds easily. Just remove the canopies, push the white button, and pull the strap from the footwell. The wagon is fairly light for its large size. We lay it down in the back of my Kia Sorento (3rd row folded down). If needed the larger wheels can easily be removed.
The only cons I have so far is the placement of the oversized basket, feels like it should be swapped with where the backseat parent organizer is. Seems more practical to have the basket closer to me for whenever I need to grab something and also would make the wagon less long. Also, this is not a cheap wagon, so for the price, I would like another parent cup holder and snack trays for the kids included instead of having to purchase them separately
Overall, we absolutely love it!
August 20, 2023
Sheena M

Raddl Verified

Recommended
Room to grow!
When our family expanded from 1 to 2, I knew that we would need a stroller wagon. I have been researching different brands and models for about a year to determine the best fit for our family and value for the money. I finally decided on the Larktale Caravan 2023.
First impressions were that it is very large and easy to assemble, however, there was significant offgassing from the product, so that is something to be aware of if you are sensitive.
As far as performance, the ease at which the stroller expands and collapses is a very nice feature. My husband stated that another strap to secure the other side would be an added benefit instead of just being single sided but it still functions well. There is a great amount of space inside for my children and any additional toys and bags. We also like the feature of the drop down in the center for their feet for more leg room for my two year old while keeping my six month old separate and safe. The 5 point harness seems comfortable and secure. I am short and my husband is tall, so the multiple handle positions come in very handy. I do feel that when the canopies are installed, the wagon seems a lot larger. I removed them and purchased the sun topper accessory to use instead since it doesn't seem as bulky, and the stroller can be folded with it installed unlike the canopies that came with it. Our first trip with the wagon was to the beach, and it did not do well on the sand so that's some thing to keep in mind. When strolling around the block and in stores it is smooth and rides great.
Overall, I am very happy with this wagon, I feel confident that even as my children grow, they will be riding comfortable for many years!
August 21, 2023
Kasandra S

Raddl Verified

Recommended
#1 Wagon!!
We have been through several wagons at this point and I think this one is finally our perfect match! We have 3 kids (ages 5 & under). They all fit comfortably and it steers so smoothly! The wagon is very easy to load in the car and does not take a ton of space like some other wagons. The storage basket is a good size to just throw the diaper bag in or a little cooler. Our only complaint is the Sun canopy's. They are quite tall in the upward position. Not a deal breaker though, as larktale offers other canopy options. Definitely recommend! Putting it together was also super easy!
August 21, 2023
Amanda M

Raddl Verified

Recommended
A Versatile Solution for Our Family
We love going out to fests, playgrounds, and going on fun family outings. We just had a baby two months ago so getting a quality wagon was high on our priority list. After a lot of research and going back and forth between a couple of different companies, we finally decided on the Caravan.
As soon as we unboxed the Caravan, the first thing that jumped out was the build quality. The main pushing handle is a very thick, soft leather. The wheels are very well constructed, and the overall frame is very sturdy.
Putting together the Caravan was pretty simple. There are a couple of QR codes on the side of the box. One was to register it, and the other one took you to their YouTube channel to show you how to put it together. The video was useful, but it was a little outdated. The wheel assembly wasn't exactly like it was on the video, however, a quick look at the manual was all that we needed to get them on. Everything else snapped together easily and we had our Caravan put together in no time.
The first impression of the assembled Caravan is the smooth ride. It feels like it's gliding as you push it. Also, it's spaciousness was very apparent. All of the little details like the double reclining seats, the compartment that lays flat to allow a baby to lie down, even the little pockets in the perfect places, all make this wagon a dream. Our 6 year-old hopped in and was very comfortable right away. Even with him sitting inside there was still plenty of room to put in our diaper bag, lunch boxes, and anything else we wanted to take with us. He loved all of the space as well.
Our only gripe is the way it folds. There is an adjustable strap that buckles together when you fold up the Caravan. However, it's not always easy to fold up and buckle, especially with a crying baby in one arm or when you're in a hurry to get everyone loaded in the car. Also, it doesn't quite fold up as flat as what we thought it would, and with any quality wagon, it is just a bit heavy. But that comes with the territory. It still fits comfortably in the trunk of our Subaru Forester. And even though it was a bit heavy, I was still able to lift it into our car without any assistance.
Overall, we are very very happy with our Caravan and would recommend it to all parents who are looking to get a spacious, quality wagon.
August 12, 2023
Allison K

Raddl Verified

Recommended
Larktale Caravan 2023
I've been reaching stroller wagons for literally the last year. Since Summer 2022, I did extensive research on which stroller wagon would best fit the needs for our family of 4 (2 kids under 2) I came across the Larktale Caravan which was recommended by a neighbor and I pulled the trigger within 5 days of researching!
I was so excited to open the box right away, but usually have to wait for my husband to put together baby products because I get frustrated with assemble quickly. However, he was at work, so that night of arrival I decided to give it a go and it took me no more than 10 minutes all on my own! All you have to do is click in the handle bar and wheels. It was super simple so that was a pleasure.
The next morning, I took both kids out for a neighborhood walk to test out their new ride. The actual space inside is so spacious and clean looking. It's really the perfect size for my soon to be 2 year old and 1 year old. I love that it has a 5 point harness for each of them and pockets next to their seats to hold snacks and drinks. The sun canopies are full overhead coverage and there is one for each of them.
The basket the wagon comes with is also really spacious and held a great amount of misc items that we take on the go (diapers, wipes, extra snacks, extra pacifiers, etc.) this will be a great option to carry all our beach toys when we take this away for our family vacation next week. I'm really happy for this basket add on.
For storage, I folded up the wagon and put it in the truck of my Jeep Grand Cherokee. It fit easily without having to take the tires or handle bar out which makes taking the wagon on the go a breeze.
Overall, I am so pleased with our new Larktale Wagon and so excited to use it with my kids on all of our to go trips that are to come! They are really excited for their new ride too, and I can tell this will last us for years to come!
August 9, 2023
Jenifer B

Raddl Verified

Recommended
Perfectly sized for two!
We've had a lower cost and smaller wagon and after a few rides quickly realized that our two kiddos just needed more space. It might be their age difference but they truly don't need much to start a fight/argument, and the footwell in our previous wagon was a serious bone of contention!
the caravan has just the right amount of space for my 5 year old and 3.5 year old— they each have their side and enough room for their feet. The inside compartments are great for snack bags or water cups, and not within reach of the other passenger— so no fights over touching!
The basket if the caravan is a great size and easily holds various items for a trip to the park, or our oversized beach bag with towels and sand toys. We've used the caravan on our family vacation for the last week and taken it to the beach, on walks around the neighborhood, the local park and over some uneven gravel driveways and paths. Even with both my kids and our gear (totaling about 80 pounds) it's easy to push and turn without much hassle.
Initial set up of the wagon was a breeze— just adding the wheels and the break bar. It took us about 5 minutes! The individual canopies are great and provide really good coverage from the sun, and because they are individual meet our needs perfectly. I'm not tall, and am able to see over the canopies without any issue.
The caravan folds much smaller than I expected, and I'm able to easily lay it down in the trunk of my truck without having to remove the wheels or anything else. With the 3rd row up, I can still fit the caravan inside without removing the wheels by standing it up on its side (horizontally).
Overall, the kids have enjoyed riding in the wagon and we've enjoyed the ease of using the wagon. I'm sure we'll be able to continue to use the caravan for years to come.
August 8, 2023
Amanda H

Raddl Verified

Recommended
Caravan for 2year old and infant
I can't believe how easy it was to put together. It took me less than five minutes by myself to get it totally set up!!
It feels roomy- but not huge. My two year old loved sitting in it and had no problem seeing over the side. I believe we will be able to use it for many years to come.
We have another baby coming at the end of the year, and even with the infant seat, my daughter should have plenty of space.
It is a little bit difficult to see my daughter over the shade cover (I am 5ft 5 inches) when it is not in use. I plan to remove these and leave in the car to use as needed, so i can keep a better view on her. The coverage is great on them when in use.
The wagon is beautiful and feels very well made. It doesn't feel too heavy at all and is so so easy to close and open.
August 6, 2023
Devyn N

Raddl Verified

Recommended
Awesome Wagon!
We recently switched from another stroller wagon to the caravan. I'm so glad we did!
The wagon is very easy to maneuver around. We took it to the crowded mall today to get out of the heat and it was so easy to weave through the crowds. I like how the front wheels can lock position as well. This is nice for when we are standing it up and getting ready to load it into the car. Its lighter than you think so loading it into and out of my van was easier than expected. I did have to remove the sun canopies so that it would fit. They come off and on with a click of a button so that was not an issue.
I was able to fit my Graco car seat in the wagon itself along with my 2 year old. The 5 year old squeezed in there too. It was cramped with the 2 kids and a car seat, but they made it work. I don't like how the storage basket is on the front end of the wagon. It makes it feel super long. I was easily able to remove the cloth part of the basket and flip up the bar. I still have enough storage on the push side of the wagon, so not having the basket isn't an issue for us.
Overall I am glad we switched to the Lark Tale Caravan wagon. It is easy to maneuver, light to lift in and out of the car, and roomy enough to hold 2 kids and a car seat.
August 2, 2023
T L

Raddl Verified

Recommended
Great wagon for family!
We have the 2023 Larktale Caravan V2 and highly recommend it. There are many pros and not many cons to this stroller wagon. We researched for a long time for an exceptional wagon to fit our 9 month old twins and 3 year old toddler. We're so happy we came across this stroller wagon to comfortably fit the kids with the company's double seat conversion kit and we love that the stroller is not quite as heavy as some of its competitors. Weighing at 33 pounds, it's definitely easier to lift into the trunk of a car than a wagon that is 50 pounds! It's well built, aesthetically pleasing and easy to use. We purchased the Byron black color and it looks very sleek, especially with its comfortable, brown leatherette handlebar. The wagon arrived in a big box, disassembled but it was simple to put together and it did not require any tools. We love how smooth the ride is and we can choose to push or pull it. Seats are adjustable so that kids can sit straight or lean back in a reclined position. The canopies are high quality and provide outstanding shade. We love that the handlebar is adjustable to fit different heights. So far, with three kids in it, there is ample space inside the wagon and the storage basket outside provides excellent capacity. The only few cons to point out are the handlebar feels a bit loose/wiggly, the wagon is lighter than some others, but it's still quite bulky and can take some time to get used to, there are no cup holders on the inside of the wagon and the price is a steep investment, however it seems high quality and we expect this to last us many years.
August 3, 2023
Ana H

Raddl Verified

Recommended
Good for now, Good for Later
It took me MONTHS to decide on a wagon stroller. Previously I had the EvenFlo Pivot and though it was easy to keep in our Minivan, it had issues that annoyed me and that I wanted to avoid.
Footwell: First thing I was looking for was enough space for the kids feet. In my previous stroller, they kicked each other like crazy. Here, you can see from the picture, there is sooo much room, an adult can fit. I probably could have gotten away with the coupe version but I know in the future it would have been a temp thing.
Size: holy wow is this thing huge. 2 adults can sit in it comfortably. If you are a tiny person, have a tiny car, or don't have a space to put this, it may be annoying. I didn't realize how big BUT it does fold up pretty good and surprisingly compact. I used to use ours in department stores, I don't think I would with this one. It's big.
Drive ability- On smooth services my kids like to drive each other around, very roomy. On rougher you need a little umph but it's good. I did not try on the beach but suspect these tires won't be ideal. Pretty sure they sell beach ones.
Coverage: excellent! If you need wind, water or whatever protection especially with the rain cover, you will be 100% fine.
Longevity: So this is one of the main reasons why I wanted to get this one. This will absolutely grow with our family. And we'll take whatever we will throw at it. Is seat's fold down so that they can be put flat so if I need a wagon for a older dog or heck and adult, it will work in a pinch. I expect to use and have for years.
Airports: Quick tip, many airlines won't take stroller wagons as gate check, check with yours.
Quality: It's solid and I'm not worried about it at all over the next few years. Fabric is stitched well and feels durable.
Looks: Nothing crazy special about it but looks decent and formidable with all you'll throw at it.
Complaints: for the price, give ma a stinking snack tray! There are a bunch of hacks for this but really I would expect this to be included.
Overall very happy purchase!
August 1, 2023
Randi J

Raddl Verified

Recommended
The Larktale Caravan is a winner
I recently became interested in replacing my double stroller (for ages 2 months and 3 years) with a wagon. We live on the outskirts of a large metropolitan area with museums, a zoo, botanical gardens, and several other children's activities, so a wagon would be ideal in these situations.
I decided on the Larktale over its competitors because of its weight/size, price, customization options, ease of folding, foot well, locking mechanism, and age/weight limit (6 mos and up, up to 300 lbs).
Right out of the box, assembly was a breeze. The wheels, brake bar, canopies, and cup holder all just click in – no tools required, and done in just a few minutes.
Steering is like a dream, amd the lesther handlebar lends to an upscale, classy look. It fits my 8 year old and 3 year old (see pictures) – my littlest is 2 months, and there is not a car seat adapter for my car seat type, but I show how the car seat fits by itself in the wagon (unfortunately, it takes up do much room that I do not believe another child could fit comfortably).
Jury is still out if I will purchase the seat adapter to turn one seat from one to two – when my baby is six months, my middle will almost be four, and the seat adapter is listed to only go up to age two. I can see this becoming a potential battle between the three children of who gets to ride in the wagon.
I haven't used this feature yet, but it appears you can empty crumbs from the footwell, which should help tremendously with clean up.
I drive a Kia Carnival, and the double stroller and wagon don't fit well side by side, but will fit at an angle (pictured).
Cons: This is subjective, but I would prefer it to come standard with the single wagon canopy vs the two separate car seat style sun canopies. I do appreciate that this is available for purchase separately from the website, but I'm not thrilled about spending additional money to get the wagon customized how I want it. On the same topic, I don't love that I have to buy extra seat inserts to increase the passenger capacity from two to three or four. I also don't enjoy that the inserts are only compatible for ages two and under, and two of my three have already aged out. Speaking of seats, I can only give three stars for child comfort, as the crotch is entirely too short for most, if not all, children.
Overall, I do think I will reach for this more often than my double stroller, especially since it is comparable in size and weight, and easier to maneuver.
July 27, 2023
Summer W

Raddl Verified

Recommended
5 stars
I got this after joining a Facebook wagon group and made a post looking for a wagon that folds down small and isn't super heavy. Plus I needed a stroller that is good on all different terrain. I was so excited to get my wagon. It literally came super fast. I was very impressed with the shipping. It was very easy to put together. I didn't need my husbands help. The wagon does fold up small but the canopies stick out so they have to be taken off. I wish they folded up inside the wagon somehow. I am worried they're going to get lost. I drive a 2023 Traverse and it fits in the back with the third row up. It doesn't have much room for anything else back there but I ill take it. I can even lift it by myself without the help of my husband and I'm pregnant. It pushes nicely. I love the look of it. I got the all black and I love the leather handle. It gives it a classy look. Overall I am super impressed and highly recommend. Something I would recommend is a bag to keep it covered when you don't want to take up the entire back seat and want to store it in the garage but not get super dusty.
July 26, 2023
Tara R

Raddl Verified

Recommended
HUGE wagon but love it
Wow this is big! I tried an EvenFlo adventurer and it was too small. This is slightly too big but it's better than being by too small. I have a 2yr old and a 6mos old. The crotch strap is too tight/short on my 2yr old but Larktale is going to replace that for me. I DO NOT like that the basket is at the end of the wagon, it's out of reach from me when I need something and it makes it even longer. You can't see when you're going to run into something since the wagon is so long. I also don't like that I have to take the individual canopies off to close the wagon each time. I do like that the footwell can be raised so that they can nap since you can't do that in most other wagons. It maneuvers well just very big. Overall I really like it, the pushing it will just take some getting used too.
July 24, 2023
Margarette S

Raddl Verified

Recommended
Larktale V2 2023
The Larktale Caravan 2023 is an exceptional wagon. It's functionality is outstanding. It looks super sleek! I got the Byron Black with brown leather handle and just love it! I am impressed by how well the caravan tackles various surfaces. It maneuvers effortlessly on smooth surfaces and can handle a curb, gravel, grass or rough terrain without problem. It also have an option to easily convert it from a 2- seater to a 3 or 4-seater which is helpful for a mom of 3 like me.
Best thing about the caravan is how easy it is to fold/unfold. One press-fold-done! Compared to other big brand wagons, it's remarkably lightweight (for a wagon this size) making it easy for me to lift into the trunk of my van. It's similar as lifting my double stroller into the van. It even takes less space in the trunk enabling me to have enough room for bags and all other things we need to bring when we travel.
As a parent of three little ones under 5 years old, I love how easy it is now to bring all 3 out to the store, park or walk. I can now do my grocery shopping at peace with all 3 little ones!!! They all adore riding it. My 2 older boys find it comfortable to sit on and it definitely is a plus that it reclines so easily (yes to naps!) They also don't bump their knees to each other. My oldest son kept saying "i love my wagon" when it arrived!
The original canopy looks great! i like the idea of the peep hole to see the kiddos inside when driving it. However it does tend to block my view of the kids when folded up. there are other options available for a different canopy type though so there already are alternatives.
The few things that I would change or improve on this wagon would be the following:
-the seat buckles. It is not the easiest type. It would help parents out if the buckles were the magnet type.
-basket. I like the idea of more storage but would just move that to the handle bar end of it to make it shorter (it is currently at the front part of the wagon). The wagon is long so maneuvering it around tight spaces is a bit challenging with the basket in the front
-i would just like a little bit more width. if 2 kids are in 1 seat, they tend to be shoulder to shoulder
The experience of this wagon overall is an absolute treat. It definitely is a winner out of all big brand wagons out in the market! Like what my son said "I love my wagon!!!"
July 21, 2023
Janet k

Raddl Verified

Recommended
Highly Recommend
This stroller was purchased for use for my 3 kids, 8 years old – 48 inches and 50lbs, 6 years old – 46 inches and 40lbs and 2 year old – 33 inches and 23 lbs. all 3 kids are able to fit into the wagon. It pushes smoothly with 1, 2 or all 3 kids in the wagon. It feels sturdy even with all 3 kids in. I will be adding a parent console for additional cup holders. I love how compact it folds and if you take the sun shades off it is that much more compact. We can't wait to take it on more outings.
July 17, 2023
Kali T

Raddl Verified

Recommended
Worth the splurge!
I have a lot to say about the 2023 Larktale Caravan..
The overall aesthetic and design of this wagon is eye catching & slick. The materials it is made with feels like you're pushing something super luxurious.
The Caravan is very easy to maneuver on different terrains and through larger crowds, it gives me peace of mind that my toddler & nephew have their own "space" in a crowd full of people.
I am 5'1" and my husband is 6'4", we have so much flexibility with the adjustable handle bar and my husband doesn't kick the brake when he walks, which happens with other wagons and strollers.
I am always worried about big bulky strollers, being a petite woman it can be hard for me to manage larger items, the fold of this wagon is not awkward and it's fairly light for it's size. I am easily able to lift it into the trunk of our Camry.
The canopies they come with look great and function very well, specially when you have one kiddo who likes to be in the sun and looking at people and another that likes to be in their own shell out of the sun. I do like the optional full canopy, I just have not been able to purchase it yet. I do wish there was a good spot to put the rain cover to have at all times like the 2022 version, maybe a hidden pocket somewhere? Rain sometimes surprises us in the midwest, I like to be prepared!
I love how versatile the wagon can be; 2 seater, 3 seater, 4 seater or add the pull behind board to add an extra! The reclining seats are great for the almost snoozing kiddos who need a little extra comfort to catch the zzz's. The option to put the footwell down to lay flat is amazing, though the buckle is harder to get in and out of the slot, just takes some practice!
I do hope that Larktale creates a cushion that can bought to boost up the shorter kiddos so they can see over the sidewalls though. My 13 month old is 30" (2'6") and cannot see over the sidewall. I would absolutely purchase a cushion that can be utilized with the buckles to ensure a safe ride.
You get what you pay for, this wagon is everything. Worth every single penny.
July 12, 2023
Kelly S

Raddl Verified

Recommended
Surprisingly Light and Compact
Out of the box the caravan is incredibly easy to put together. You simply snap the break bar in place and then the wheels. The directions were rather easy to follow along. It took about 10 minutes to put the whole wagon together.
First impressions:
The wagon itself is longer than expected. The Byron black color with the vegan leather handle bar are gorgeous together. Although long, I think it allows ample space for both my 10 month old and 3 year old. Both can fit on one bench together need be. The footwell has plenty of space for both kids to strech out. Width wise, I think it is perfect. Unlike other wagons, this one isn't so wide that you would feel you are taking up the whole sidewalk. It's about as wide as my single stroller. Overall. I am impressed with the size both length and width.
When folded, the wagon is decently compact for the size. It fits nicely in my Honda pilot (3rd row folded down) with plenty of space remaining for groceries. I was impressed with the weight of this wagon compared to other similar brands. It isn't nearly as hard to lift this wagon into my car as my old wagon had been.
In terms of maneuverability and usage, I feel the length of the wagon does make it slightly hard to maneuver. However, it does roll and turn very nicely. The wagon has both a push and pull bar. I have used it on grass in a hilly area and it pulled just fine. I also pulled over gravel and on a dirt road and again it went well. In stores it really pushes smooth like butter! The length just may take some getting used to. The back storage basket is awesome and makes a nice addition to add storage to the wagon. I also love that they have pockets on the back of the seat near the handle bar. The design for storage is really well thought out.
The canopies provide excellent coverage. However, when in use I do feel it would be difficult for my kids to see anything. I also dislike the overall look of the wagon when they are folded up and not in use. They stand up very tall and are a bit hard to see over. If I am not using them I would prefer to take them off entirely. This is one reason I couldn't give the wagon a 5 star review.
Another reason for 4 stars rather than 5 is I feel the basket would be better suited under the handle where you push rather than on the opposite side. It would be more accessible and possibly make the length of the wagon less intimidating.
The wagon is simple to fold. You simply push the button and pull the strap that is in the middle of the footwell.
Overall the quality of the wagon is excellent. My kids enjoy riding in it as well. We love that they can sit in it on separate seats or next to one another on one seat. We also love that the footwell can close to provide a napping space for our 10 month old.
June 20, 2023
Pradeep A

Raddl Verified

Recommended
A Must-Have for Families Who Love to Explore
I've been using the Larktale Caravan wagon for the past week, and I'm overall impressed with it. It's a great option for families with two young children, and it's also a good choice for parents who want a versatile wagon that can handle a variety of terrain.
Pros:
Easy to assemble and fold. The Caravan wagon is very easy to assemble and fold. The instructions are clear and concise, and the whole process only takes a few minutes.
Comfortable for kids. The Caravan wagon has two reclining seats that are very comfortable for kids. The seats have plenty of padding, and they can be adjusted to multiple positions.
Maneuverable for its size. The Caravan wagon is large, but it's surprisingly maneuverable. It's easy to push and turn, even in tight spaces.
Includes a rain cover. The Caravan wagon comes with a rain cover that keeps kids dry in inclement weather.
Cons:
Bulky. The Caravan wagon is very bulky. It's not the easiest wagon to transport, and it can be difficult to fit in a car or SUV.
Large footprint. The Caravan wagon has a large footprint. It can be difficult to turn in tight spaces, and you may need to lift the wagon to get around corners.
Expensive. The Caravan wagon is more expensive than some other wagons on the market.
Overall, I think the Larktale Caravan wagon is a great option for families with two young children. It's comfortable, maneuverable, and easy to use. However, it's important to keep in mind that it's a bulky wagon that can be difficult to transport.
Here are some additional thoughts about the Caravan wagon:
The seats are very comfortable, even for long rides. The padding is thick and supportive, and the seats can be reclined to multiple positions.
The wagon is easy to push and steer. The wheels are large and sturdy, and the wagon tracks well on a variety of surfaces.
The rain cover is a great addition. It's easy to attach and remove, and it keeps kids dry in the rain.
The wagon is a bit bulky, but it's not as big as some other wagons on the market. It's still possible to fit it in a car or SUV, but you may need to fold it down.
The wagon is a bit expensive, but I think it's worth the price. It's a high-quality wagon that will last for years.
Overall, I would recommend the Larktale Caravan wagon to families with two young children. It's a comfortable, maneuverable, and easy-to-use wagon that's perfect for day trips, outings to the park, and even camping trips.
Product Specs
| | |
| --- | --- |
| Available Colors | Byron Black, Gray/Black, Gray/Blue, Gray/Green |
| Product Weight | 38.8 lbs. |
| Product Dimensions | 17 x 25.2 x 37 inches |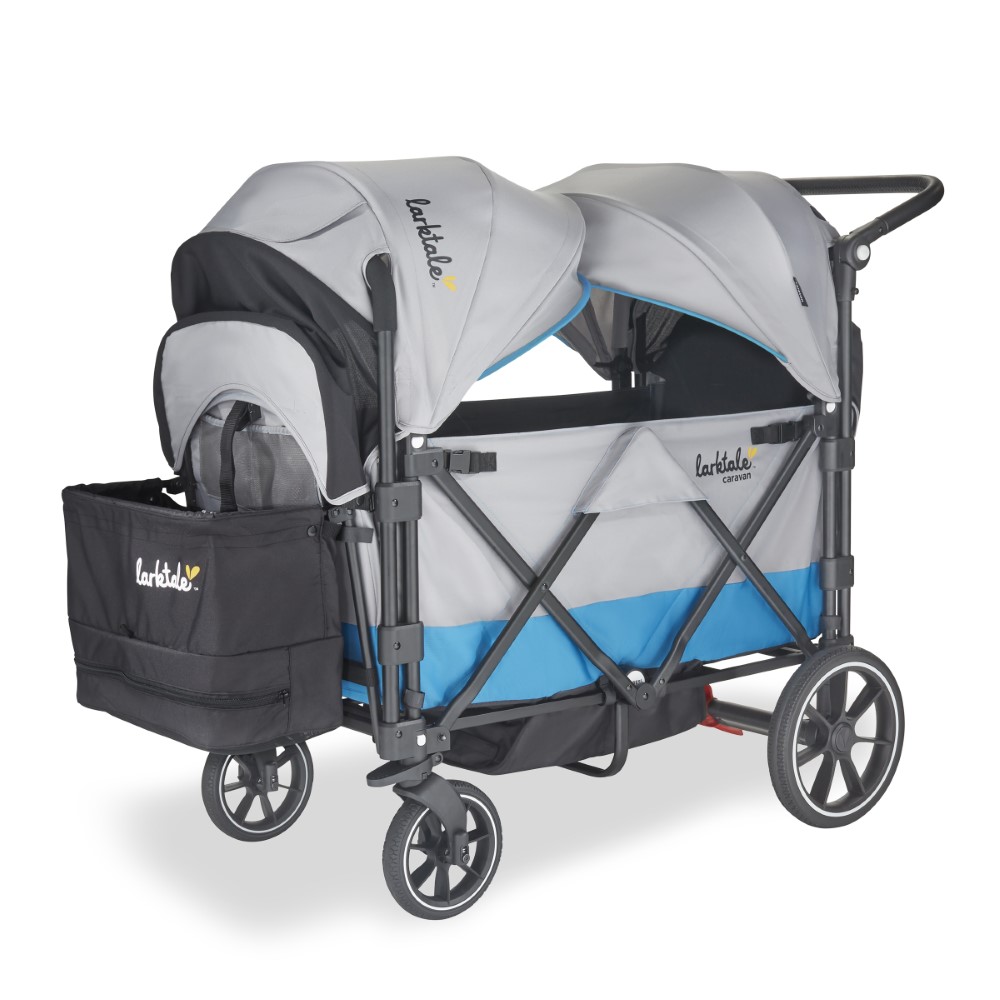 Additional Info
| | |
| --- | --- |
| Dimensions (unfolded) | 61 x 25.2 x 46.5 inches |
| Usage Range | Use from 6 months up to 93 lbs per seat. |
| Total Weight Capacity | 200 lbs |
| Handle Height (Lowest to Highest) | 25 - 48 inches |
| Child's Max. Head Height: | 28 inches |
| Included | Stroller/Wagon Chassis, Sun Canopies, Cup Holder, Rain Cover |
| Accessories (sold separately) | caravan car seat adapter (nuna, clek, maxi cosi), Ride-Along Stroller Bar, caravan Double Seat Kit |
| Warranty | 2 Years |
| Use and Care | Spot clean or remove fabric completely to hand-wash in mild detergent. Replace fabric on frame to air dry. |