Smart buying made easy
Trust the Raddl Report Card™ for all your product and services research needs!
Say goodbye to inaccurate product reviews with the Raddl Report Card™
With thousands of reviews analyzed, the Raddl Report Card™ provides you with all the information you need before purchasing a product or service.
Have you ever wondered about the accuracy of the star rating and number displayed next to a product on eCommerce sites like Amazon?
The Wall Street Journal and New York Times have reported on this issue, highlighting reviews that are outdated or for a completely different product.
Additionally, some reviews are duplicates or submitted in exchange for compensation or a free product.
At Raddl, we recognize that these reviews can still be valuable but believe that consumers deserve transparency when making buying decisions.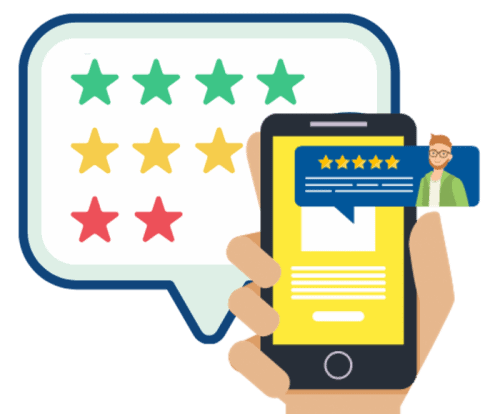 That's why we created the Raddl Report Card™, which identifies duplicates, compensation-based, and rating-only reviews. We also provide the total number of recent reviews and use advanced AI technology to summarize reviews based on star ratings.
How To: Reading the Raddl Report Card™
Reading the Raddl Report Card™ is easy and informative*
The Raddl Report Card™ is a user-friendly tool that presents valuable insights to help customers make informed decisions:
The report card provides a comprehensive breakdown of customer ratings and reviews, presented in three star-rating groups: "Ratings and Reviews," "Ratings with Reviews," and "Recent Reviews."
To offer a clearer perspective, we calculate the percentage ratio of "Reviews with Ratings" to "Ratings Only," as not all ratings come with reviews, but all reviews have ratings.
The report card also displays the total number of recent reviews, along with the number of duplicate reviews and reviews that were provided in exchange for free products or compensation.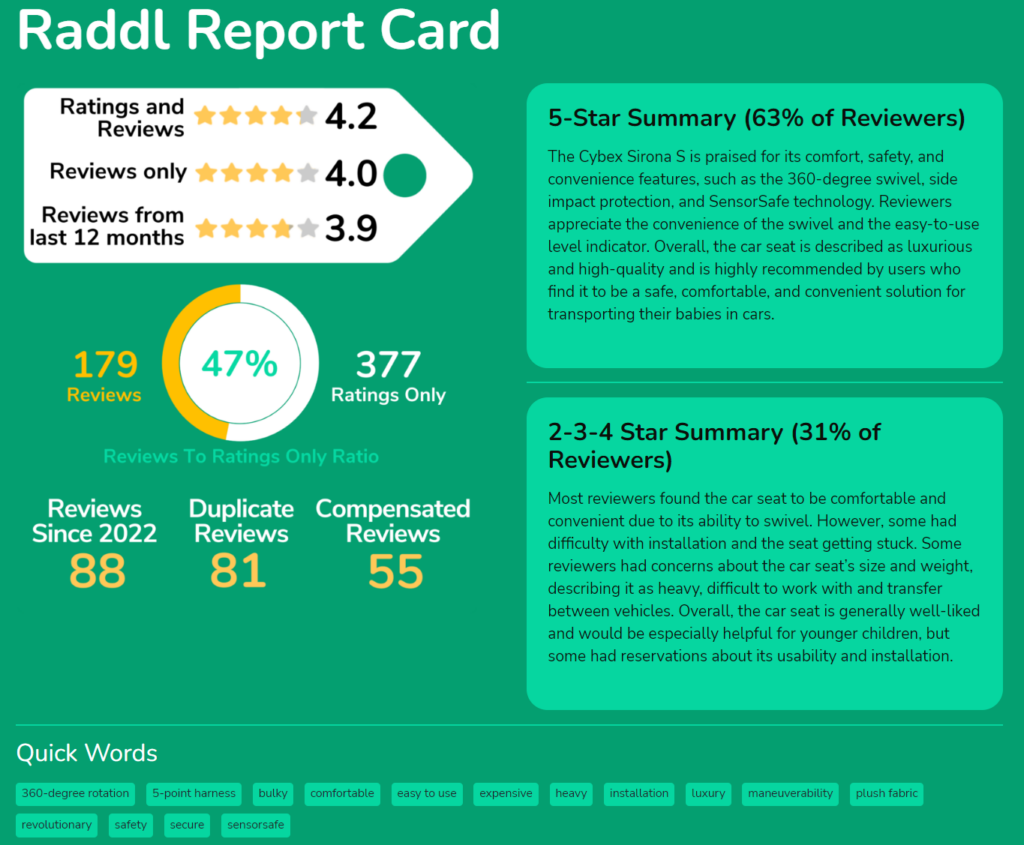 Quickwords and Review Summaries
For a quick overview, the Raddl Report Card™ includes "Quickwords," highlighting the most commonly used words and phrases in our review analysis.
Lastly, the Report Card summarizes the reviews in their respective star-rating groups (e.g., all the 5-star reviews), along with their percentage compared to other rating groups.
But wait, there's more!
Raddl offers more than just reliable research on products and services. As a Raddl member, you can access exclusive pricing on select products. Find out how to take advantage of our Raddl Shopping HERE.
Raddl Report Card™ and Shopping Benefits
Raddl Raw Review Count
Raddl analyzes thousands of reviews to provide you with transparent and reliable information on products and services.
Raddl Review Summaries
Raddl summarizes reviews by star-rating group and reports the percentage of consumers who gave them.
Raddl Member Shopping
Receive member-exclusive pricing of up to 70% off select products when you submit an Honest and True Review.
*This beta release may be incomplete and/or contain errors or inaccuracies. Raddl makes no representations or warranties about the functionality of the software or the data presented therein.