Compact Wagon with Full-Sized Features
The impressively compact fold of the caravan™ coupe is a game changer for families that want a stroller/wagon but are short on vehicle trunk space or storage space in their homes.
Suitable for children from 6 months to 65 lbs per seat, the caravan coupe will comfortably seat up to two growing kids in individually reclining seats and a shared drop-down footwell for comfortable stroller-style seating.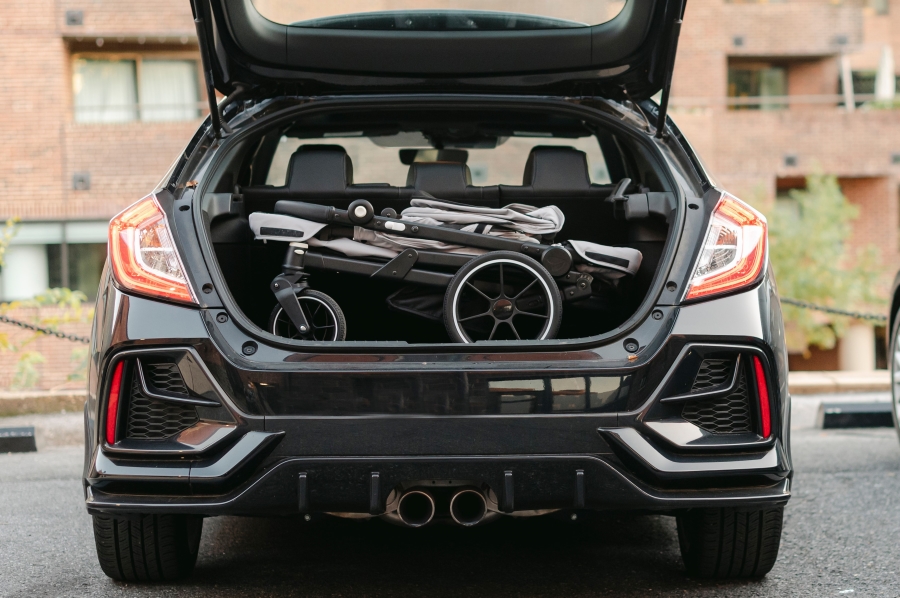 Quick and easy Fold
The caravan™ coupe tucks the rear wheels inwards for an unexpectedly compact folded footprint.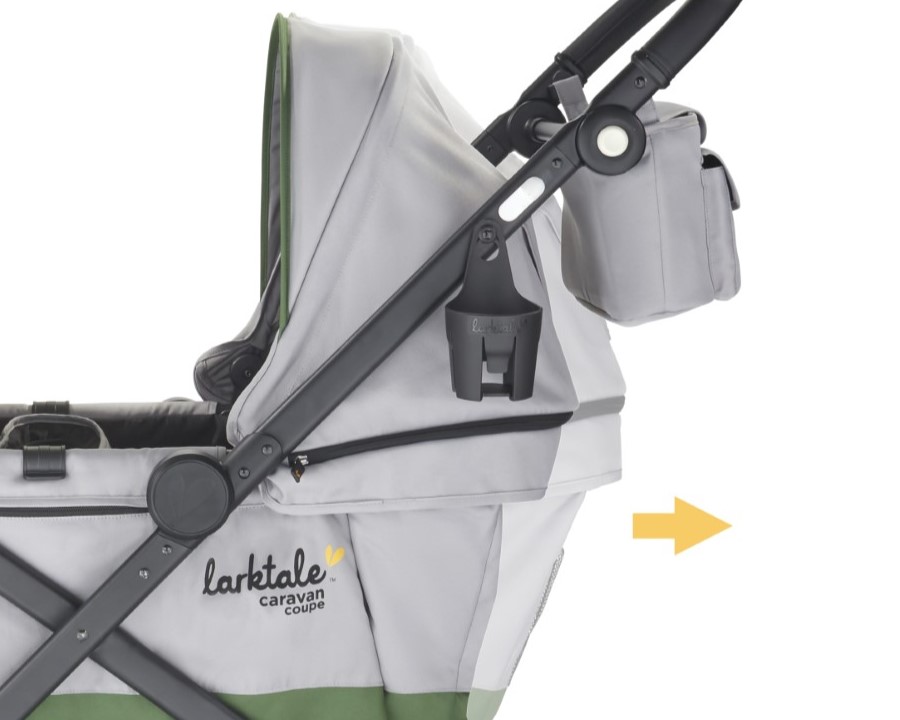 Two Seat Recline
The unique telescoping chassis frame reclines the seats when expanded or sits the seats upright when telescoped in.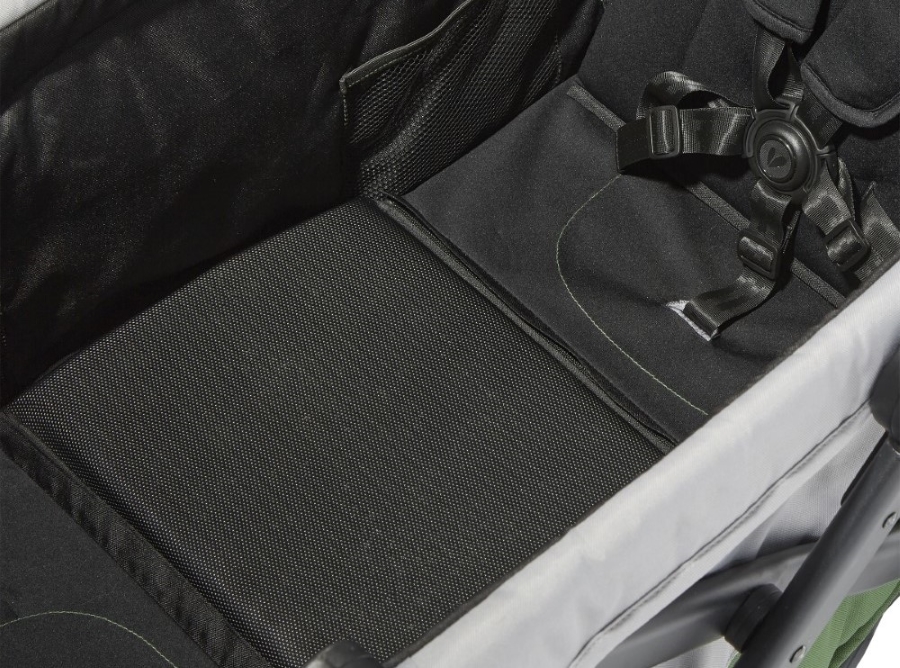 Adaptable Interior
Allows you to securely invert the footwell to create a flat seating position for cargo or to let passengers stretch their legs.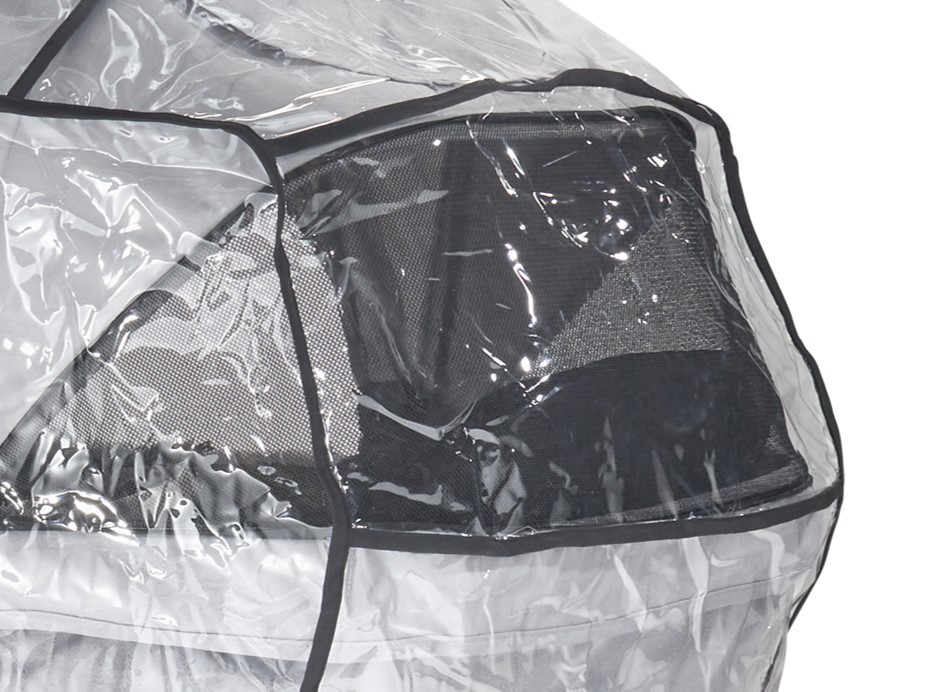 Deluxe Rain Cover
The caravan™ coupe includes a clear-view non-fogging rain cover.
Raddl Reviews
November 10, 2023
Diane F

Raddl Verified

Recommended
Must have stroller wagon!
This is the 3rd stroller wagon I tried out and as a mama of 4 we needed something compact, but big enough to carry at least two kids and this has been perfect! It rides very smooth, it's easy to maneuver and doesn't feel like you are pushing a semi around like the caravan. It folds/unfolds very nicely and we have loved it so far. It is small but big enough for what we need!
The pros are:
Simple to put together
Easy to fold/unfold
Easy to push and maneuver
Large Sun canopies
Adjustable handle bars
Weight capacity
The cons are:
It is heavy
The Sun canopies attach by Velcro, which doesn't seem like it will last long.
The light color
Needs better/more storage
Seats are a bit difficult to zipper on.
October 25, 2023
Brianna p

Raddl Verified

Recommended
the perfect hybrid
As someone that has owned both the Wonderfold x2 and this I can definitely say I prefer this stroller wagon. The quality is evident and the stroller wagon feels solid and sturdy. That being said it is heavy and that is my only con—but I haven't found a wagon with all of these features that's "lightweight". The traditional double stroller (Vista) we have just wasn't functional for us so that is what prompted me to purchase this wagon.
I love the adjustable 5 point harness and reclineable seat option. My 96% tile height daughter who is 2.5 years old fits comfortably under the canopy with plenty of room. My second child is only 3mo old but I know this will be the perfect option in the spring for them to ride. The canopy extension is nice and allows for airflow when shut or for your little rider to peek out of the back.
The adjustable handle bar is handy for parents of different heights. My husband is 6'1" and I'm 5'5" and we can both push this comfortably. The included parent caddy stays put!! Something I haven't loved about other strollers is that the caddy moves around but not with this one! The cup holder that is included fit my water cup without issue.
I love the option to zip up the footwell if you want a flat surface for your kid to take a nap while you are out for a long day. I do wish that a solid surface snack tray was included or an option for purchase.
Overall, I would definitely recommend this stroller wagon. The perfect hybrid!
October 23, 2023
Taylor H

Raddl Verified

Recommended
Nice wagon with a few drawbacks.
The Larktale Caravan Coupe wagon is a beautiful and functional 2 seat wagon. I originally purchased a Larktale Caravan V2 and realized it was too big for our family's needs. So instead, I decided to purchase this more compact coupe wagon. It seems to be high quality and I really appreciated the added parent console and kids console. Most strollers I have purchased over the last 7 years have not included those. I wanted a wagon with a smaller footprint than our previous Keenz 4S wagon but something that still had the ability to hold a large amount of weight. Being that I have only one child who is 16 months old, I wanted something more compact with the ability to occasionally have my 6-year-old jump in when she gets tired. This wagon offered that ability due to the footwell and weight capacity. Our previous stroller wagon did not have a footwell so it could not really accommodate 2 kids with big age differences as there was no place for my daughter's long legs to sit. I found this wagon to be very attractive and less bulky compared to others on the market. It feels more high-end than our previous wagon but I do wish they had more color options other than gray. I can see this becoming dirty quickly with the light gray fabric but it does look very nice right now. One feature I loved is the pull handle bar. I love that you can attach or remove it based on your needs. I typically don't utilize the pull function on a stroller wagon so I like that it can be removed when not needed. However, even with it on, it's out of the way and hard to access if you do want it. A few cons I had with the wagon were the fact that it is very heavy, and can be difficult to pick up and put in the back of our SUV. Thankfully, I won't be doing this often but for others who may be purchasing a wagon for everyday use, it could be a problem. I also don't love that the breakdown requires you to unhook the seats and canopies in order to fold. That can be a little frustrating to have to unhook and rehook each time you use the wagon. One other issue I ran into was when buckling up my daughter in darker conditions. The inside seat is black and so is the harness, I had trouble finding the crotch buckle when we were outside at dusk due to them being the same color. Overall, I think this is a beautiful wagon with lots of nice features. It has a pretty decent push and maneuvers well. I would purchase it again and I'm already recommending it to a few friends of mine!
October 11, 2023
Elise B

Raddl Verified

Recommended
Game Changer for Stroller Wagons!
I ordered the Larktale Caravan Coupe on 10/1 and the item was delivered on 10/7. I was super impressed with the quick delivery! All the parts were included in the box and the instructions were simple to follow. I was able to set it up by myself in about 20 minutes.
Even though the product is heavier, I could lift it and put it in the trunk of my vehicle (3rd row SUV). I had no problems with space and even could have made it smaller if I took the wheels off, which wasn't necessary for me. My husband and I pushed the stroller wagon across the zoo with my 1 1/2 year old and 5 year old and it was pleasantly easy to push! I was a little apprehensive because of the weight of the product, but it wasn't hard to push at all. Both my kiddos fit in the product easily with and without the canopy (son is 30 inches and daughter is 48 inches, for reference). I'm fairly short (5'4) and my husband is tall (6'4) and the height of the stroller push bar was great for both of us. I also loved the all-terrain wheels. I went over a couple of curbs at the zoo and it handled them with ease! Way better than my previous double stroller did.
It was super easy to fold and unfold if you knew the steps to do it! I had to tell my husband how to do it over the phone, and he was able to figure it out easily. Highly suggest watching a video on YouTube to get the hang of it! It folds and unfolds super quickly AND with all the attachments connected, which I appreciated.
We have friends who brought along the Evenflo Pivot wagon and I was able to see them side by side, and I definitely love the features of the Larktale comparatively. I like the 5 point harness system the Larktale offered and the ability to be able to switch from a footwell to a flat service. I also like that the sides are a little higher in the Larktale. Feels more durable to me.
The parent storage was nice, although, I do wish the wagon had a bit more storage (like a clip-on basket). I also wish there was a better snack tray for inside the the wagon that was flat and includes cupholders. Definitely not deal breakers, just a wish list!
All in all, very satisfied with the Caravan Coupe and highly recommend it to others!
October 3, 2023
Megan M

Raddl Verified

Recommended
I LOVE THIS STROLLER WAGON!
I just received this stroller wagon and have already used it a couple of times. My son is almost 4 years old and he fits perfectly in this, with room to grow. This wagon will last us a couple more years!
Pros:
the seat backs are high enough to be comfortable for my toddler
the spot for leg room is perfect
pushed like a dream on all terrains
fits 2 kids, with plenty of room
super easy to put together (came with a bunch of different packaging, but everything clicked together without the use of any tools)
reclining seats are perfect
Cons:
not a big enough storage compartment, but the wagon is big enough to hold one child plus some extras
no snack tray (can buy separately but not wanting to spend the extra money right now)
cup holder that goes on the side does not fit most water bottles (but can use the handle pocket to hold water bottle)
Overall, this product is AMAZING and I am extremely happy to be able to use and share with my friends and family. I would highly recommend this website AND this stroller wagon to anybody 🙂
September 3, 2023
Katie T

Raddl Verified

Recommended
LOVE this wagon!!
I did weeks of research trying to decide which wagon I wanted to get for my 3.5 year old and 8 month old. I first decided to get the jeep wagon. I used it a few times before deciding I didn't like it and returned it. I went back to researching and was between larktale and wonderfold. I had a list of must haves including a foot well. My 3 year old seemed very uncomfortable in the jeep due to lack of foot and leg space. I also needed it to have an 5 point harness for my 8 month old. After debating for another couple weeks I just decided to get the coupe! Shipping was incredibly fast. It was super simple to put together as well. The next day I immediately took my boys for a walk. This wagon is so roomy for them with space to grow! I love that the foot well can close up to be flat so my 8 month old can play in there or nap. I love that the handle angle can be changed. The canopies are great as well. It's easy for me to fold and unfold and get in and out of my suv. It steers beautifully! It's like a jogging stroller it's so smooth. It was easy to push around my neighborhood up and down the hills and over bumps on the sidewalk. I'm overall super happy with this purchase and would highly recommend it!
September 4, 2023
Emma F

Raddl Verified

Recommended
Been waiting to get this stroller wagon!
Overall I'm pretty satisfied with my purchase! The main reason I had my eye on this stroller wagon was because of the footwell/flatbed conversation and the style. I know there are others on the market but I wasn't a fan of their canopy or the way the handle was for pushing. It came very quick to my door and any cons I had can be overlooked. One thing that was unfortunate was that the fabric of the footwell was ripped so I hope I can get that replaced (update: a replacement fabric is being sent to me). My 2.5 year old also slept well it in when we took it out to the zoo. I'm hoping that Larktale will come out with a car seat adapter and travel bag soon!
Pros
Very smooth push and effortless on pavement and grassy areas
Easy to put together
Feels sturdy and well built! I can hang a lot of things with the help of stroller clips and hooks
Love that it comes with a stroller caddy
Easy to fold/unfold
Diaper bag can be hung without tipping over
Cons
Pretty heavy to lift
I wish it came in all black. We already got it a bit dirty
Would like a flat tray that lays across the wagon for snacks
Footwell takes a bit of effort to zip up
August 31, 2023
Hannah M

Raddl Verified

Recommended
The best it gets for a 2 seater stroller/ wagon!
I consider myself to be pretty well versed in both strollers and wagons. This is my 3rd wagon and I've spent a lot of time researching the best fit. There's no perfect wagon, but this comes as close as possible for my needs and experience. I have the W4 Luxe Wonderfold and I previously owned the Keenz XC-. Both are way too big and I find myself a bit annoyed when pushing an empty wagon. I keep the W4 for things where I need a lot of storage and basically just plan on taking it to keep in the same spot, but with my oldest outgrowing strollers and still wanting to be pushed everywhere I needed something different. The caravan coupe is the answer to this and my "daily driver".
My kids are 1 and 4 and my 4 year old is HUGE. She's the size of a 7 year old, 46 inches and 57 pounds so that's been part of the struggle. I thought my only option was the W4 Wonderfold or destroying a stroller that she looks ridiculous in. This girl loves to sit and be carted around and if I can't do it somehow I'll never be able to leave the house with her.
Biggest pros:
– comfortably fits my 4 year old, sunshade and all
– A ONE HANDED PUSH!!! Even fully loaded with my 57 pounder in there. I can hold my 1 year old and not have to stand there or reason with my 4 year about why she needs to get out and walk. My main goal. (the W4 is never a 1 handed push).
– manuverablity
– visibility, the lowness to the ground helps, if you've ever had one of the massive high above the ground wagons you just feel like you're going to run into things all the time that you can't see
– the parent console is a great design, attaches well and the wasn't sure about the nets to hold drinks, but it works really well
– leaves plenty of cargo space when loaded into my small SUV
-easy to load/unload
Biggest cons:
– shared foot room is a bit of an issue because my 4 year old doesn't have the most gentle demeanor, but it should be easier when she's well rested or as she matures. There's no solution for this unless you get massive wagon.
– the storage is a little low, but you can easily add more with stroller hooks, I have a cargo net coming. It seems like the horizontal bar by the parent console is the perfect place to add this.
– doesn't come with a great snack tray for a young toddler, but most high end wagons and strollers don't anyway, snack trays aren't usually something you use for very long anyway and for some reason they're too high up when you need them. This is no except, when my 1 year old is sitting any tray I would add would be above eye level.
I highly recommend this wagon, there's no better way to design a wagon this roomy and compact at the same time!
August 14, 2023
Bridget M

Raddl Verified

Recommended
My husband called it "one of [my] best purchases"
I ordered the Caravan Coupe for my 2.5 year old and 6 month old. The 2.5 year old was refusing to sit in a stroller so family outings were a big pain. He LOVES this wagon. I initially set it up but we didn't have anything planned so it stayed in the house. He absolutely loved sitting in it and would ask to go in "his wagon" even to just watch – super cute.
Now, that's not much of a review so after we put it to the test for a weeklong beach trip, here are all the details. My husband ended up taking my 2.5 year old for a walk on the boardwalk to try and get him to sleep and was stopped multiple times by other parents admiring the Caravan Coupe and asking for the details.
The Good:
It is super easy to assemble, I did it myself in about 25 minutes but that included putting all the packaging up and a little bit of multitasking.
Both my kids took beach naps in this bad boy. The 2.5 year old wasn't able to completely stretch out but he laid diagonally and put his feet up. I'm serious, this kid napped like that for 2 hours.
The push is comparable to our Uppababy stroller. It has a really smooth push!
We were able to use it on sand – obviously we weren't able to push it one handed but it maneuvered well enough to make it worthwhile to bring it down to our spot.
The quality is definitely there. I didn't notice any cut corners with the manufacturing – every feature was intentional and intuitive to use.
The OK:
The grey fabric showed marks from sun screen and our chocolate fudge sundae. I haven't tried to clean it but I would LOVE if it came in black to make it a little easier to hide messes.
This isn't a compact baby product – but it is one of the more compact wagons! Its just as heavy and labor intensive to set up as our stroller though so I almost always opt to use the Caravan Coupe over our stroller.
My 6 month old was a little too small to sit in the seats comfortably. I rolled towels and stuck them on either side of him and he was much happier. I think when he gets a little bit bigger then he will be a lot more comfy!
The Bad:
Storage – the only thing I found myself wishing for was a large storage basket. I've seen lots of hacks online so I will start to test those out!
August 11, 2023
Katherine L

Raddl Verified

Recommended
Love it but needs some storage hacks
Overall very satisfied and very happy with our purchase! We've been going to the zoo with this and my 19mo old is very happy in there. I highly recommend the wagon to any moms. I think it's worth the price for the quality!
Pros:
The wagon pushes and turns like a dream. We haven't tried sand or gravel yet, but grass is a piece of cake for this beast.
High quality materials
The straps are easy to clip
Canopy is large and has a nice click at each position (much better than Evenflo)
Tall side so it doesn't feel like my child is going to fall out easily
Adjustable footwell (although it's not very easy to maneuver, more in con below)
Con – there is no perfect wagon, after extensive research and comparison, we decided we really like what the coupe offers, so the list of cons don't bother me at all. But here's what I think could make this even more perfect
Folding could be a tad bit faster, it's not easy to unhook the backseat, and you have to do things in the right order
Storage could be better, it would've been nice if there're storage pockets both in the front and back, or a detachable basket. The pouch they have on the parent side is pretty small
The footwell is a bit hard to move up and down and clean, so I mostly leave it down
I wish the leather handle is brown instead of black, especially on the green model
No true snack tray but there're hacks
August 10, 2023
Michelle S

Raddl Verified

Recommended
Love this wagon
Even though I only have one child, she's 2.5 years old and has a hard time staying in her stroller. She wants to look around more and bring her toys and snacks… its a lot. The wagon is still compact enough to fit in my trunk (although heavy to lift!), but she feels like she's a princess hanging out in there with all of her books, dolls, and snacks. I love going on walks for my own mental health and I think now she will stay entertained for much longer with the wagon. Also, if we have any friends hanging out with us there's an extra seat for them. The stroller feels sturdy and well made. I love that it comes with all of the accessories, unlike some other wagons.
August 7, 2023
Samantha T

Raddl Verified

Recommended
A great stroller alternative, but definitely has improvements to be made
I researched this stroller, and picked this one for the "stroller-like" push. Now that I have it, I find myself in a love-hate relationship with it.
First Pros:
1) My husband calls the coupe, my daughters "car". It definitely gives my 1 year old space to people watch, or sleep, when not walking beside it.
We've also used it with a giant 3 year old nephew – enough space for them both to fit happily.
2) The thing pushes like a dream.
We've taken it "off-roading", on gravel and grass- and have yet to have any issues. It's comparable to our Vista on pavement, and with wheels locked- We were pleasantly surprised on some of our rockier surfaces. It does bounce, but that's ok for its size. Recovery is awesome.
and the best for last!
3) It fits in the trunk of my Subaru Legacy Sedan! Yes! Yes, you read that right!!! It fits! With wheels on!
This was a must have, I'm so happy because it's my daily driver. I normally pull my travel stroller out for short periods, but trips that we spend the day out (parks, aquariums, fairs) – popping this in and out of my trunk is awesome!!!
Now for the Cons, and the first is a doozy.
1) No SPF Protection.
At this price point, I cannot believe this – but it's true. No SPF protection from the coupe what so ever.
I ordered this before I knew, and to be honest- I would have passed by had I known.
In my opinion, This is a HUGE misstep in my opinion. The world is only getting hotter, and sun protection works best in layers.
IE. – sunscreen, spf in clothing and spf shades and coverings.
This gives nothing- but shade…
2) The Lack of adequate storage. For adults.
yes, it's great for kids- but be honest we need to be able to take things around too. This doesn't give much storage options, not even for its own pull handle or rain cover.
to make this more convenient for ease of use, you must by accessories thus adding to the overall price. That's also insane to me for this price point. At least make carrying the things that come with the unit easy- the parent console and child console are small and fill quickly with normal everyday outing items.
and
3) the folding mechanism, use of Velcro and lack of number 5 size zippers.
I dislike that the folding mechanism isn't automatic, like the Vista- and manually removed. Instead with both being manual, you can easily forget.
the Velcro makes me fear for longevity since you have to use it each time with open and close. I believe zippers would have been a better option.
also the number 3 zippers, I don't know if mine is new and thus hard to get- but number 5 zippers would have made life easier. Is it difficult like a phd? No, but annoying and when kids want to sleep- time consuming.
Overall, I like the coupe and I'm happy with the purchase but I do think there is definitely room for improvement. Especially in the SPF department.
July 31, 2023
Sara H

Raddl Verified

Recommended
Roomy but compact wagon
I purchased the Coupe for my current 4.5 year old and soon to be newborn. With a fairly large age gap, I didn't want a huge wagon since it's pretty realistic that it'll primarily be one rider at a time and my oldest is too big for a double stroller. My son is pretty tall for his age (47 inches and 56 lbs) and fits with extra headroom. He says that he loves it and has fallen asleep in there once already! The push is great, we have taken it for a few walks so far and have tried it on grass and sidewalks. The pull handle is great for getting over the big bumps. Handles great for a bigger carriage but obviously not as nimble with turns as our previous stroller. I would say the push is as smooth or smoother than the city mini gt. The fold took me a few tries to get it, but seems pretty easy and the size that it folds down to will work well for transporting in the car. The weight of the stroller also makes it easier to transport than some others I looked at. The quality of wagon feels great and seems like it will last. Can't wait for the car seat adapter to be released!
July 26, 2023
Shannon O

Raddl Verified

Recommended
My favorite caravan
I have been eying stroller wagons for 6 months now. I have down plenty of research. I am so glad I went with the larktale caravan coupe. It rides so smooth. It has plenty of room for two kids. My child loves it! It's like a pack n play on wheels.
The kids console where you can put drinks and snacks could be better. I like the fact you can semi recline the seats for more room and relaxation. I don't have to worry about my child falling out or climbing out.
July 28, 2023
Ansley B

Raddl Verified

Recommended
Quality Wagon at a Reasonable Price
I would like to preface this review by mentioning that this is the only stroller-wagon I have ever tried. However, I did spend a significant amount of time researching double-strollers and stroller-wagons that would accommodate my large 2 yr old and average sized 6 month old for the years to come. I ultimately decided on this stroller-wagon because of the large height/weight range it accommodated, the reclining seats, compactness, and sturdy looking wheels. Upon receiving the product, I could tell that I had made a good choice. The setup process was painless compared to our single Bugaboo stroller. The YouTube video was helpful with instructions. The materials felt and looked to be of high quality. I was impressed by the accessories included (stroller style push handle, wagon pull handle, cup holder, storage attachments, rain shield).
I have taken this wagon on multiple walks with my children now and am very pleased. The wagon itself is a bit heavy, but that is understandable. It folds down pretty compact for what it is. The wheels glide over bumps and cracks in the pavement seamlessly. It safely and snuggly holds my 6 month old and my 2 year old. I can tell that they will have plenty of room to grow and still comfortably fit in the wagon. I like that I can have my 6 month old facing me as well.
The biggest downsides in my opinion are the accessories and the canopies. Besides the wagon pull, I found that the other accessories were a bit flimsy. The cupholder could not stay completely upright when I put a small drink in it. I do not know if this is standard as I have never used a cupholder attachment before. The storage attachment for the handlebars seemed to detach too easily, perhaps this wouldn't be an issue if I weighed it down with more items. The canopies did not extend as far as I would like, but this can somewhat be fixed if I do not attach them from the base and just use them overhead. I found that I had to adjust them a few times to get them to sit how I wanted. I also do not think the the velcro attachment style at the base is the best choice since the canopies will have to be detached to be folded down every time I fold down the stroller. I would have preferred a zipper or just extra fabric instead.
Overall I think this product is a great value for the money. I can tell that a lot of thought went into the design. The most important features like maneuverability, comfort, and safety are comparable to much more expensive strollers.
July 24, 2023
Jacqueline M

Raddl Verified

Recommended
Very nice impression
I like the Coupe by Larktale because it's compact. It has a good high-end fabric and the frame is very durable. When I first open the box, I knew I made the right decision on purchasing this one. I had bought two different brands wagons and returned them prior to this purchase. The assembly was very quick, it took me about 10 min to complete the whole process. I like that I have a 5-point hardness and that the inside material is very soft and comfortable for my baby. The storage was plenty for my needs. I mainly will be using this wagon for my 18-month-old baby and occasionally my 3 years old and my 6-year-old.
What I did not like was the canopy connection to the wagon is not stable enough. It did not click secure and I found myself trying to adjust it more than 2 times in my first outing. The wagon is heavy but it is understandable because it has to hold a lot of weight. Also, the light grey color gets dirty quickly with babies dirty fingers.
Product Specs
| | |
| --- | --- |
| Available Colors | Gray/Black, Gray/Blue, Gray/Green |
| Product Weight | 39.8 lbs |
| Product Dimensions | 36.5 x 25 x 16 inches |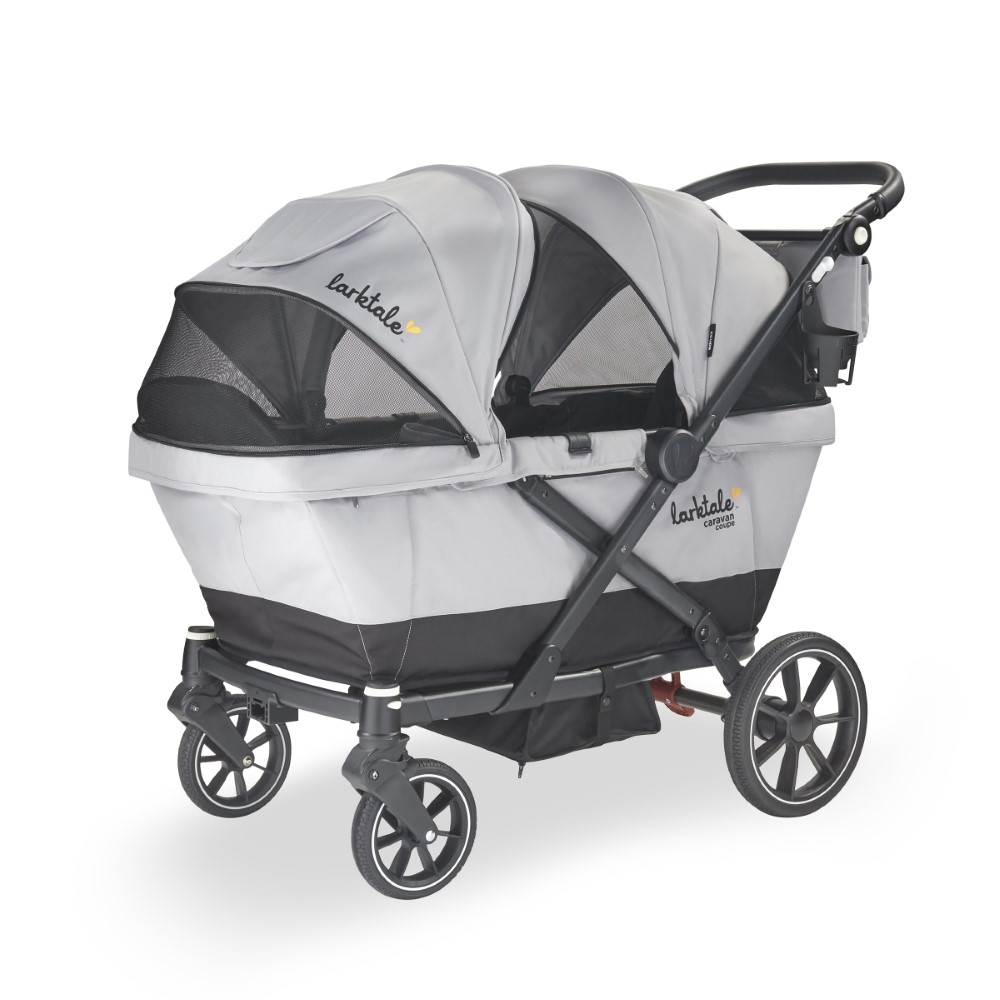 Additional Info
| | |
| --- | --- |
| Dimensions (unfolded) | 51 x 25 x 40.5 inches |
| Usage Range | Use from 6 months up to 65 lbs per seat. |
| Total Weight Capacity | 147 lbs |
| Handle Height (Lowest to Highest) | 28 - 43 inches |
| Child's Max. Head Height: | 23 inches |
| Included | Stroller/Wagon Chassis, Sun Canopies, Stroller Organizer, Storage Console, Pull Handle Attachment, Cup Holder, Rain Cover |
| Accessories (sold separately) | Ride-Along Stroller Bar, Stroller Fan and Mister, Solar Charger |
| Warranty | 2 Years |
| Use and Care | Spot clean or remove fabric completely to hand-wash in mild detergent. Replace fabric on frame to air dry. |